What Is This Small Black Circle On The Roof Of The Mid-Engine Corvette?
11
Look closely at the spy shots of the up-coming mid-engine Corvette, and you'll see a small, circular object at the center of removable roof panel's rearmost edge, making us wonder what the peculiar little element be.
What It's Not
To correctly identify what the element is, it might be useful to rule out what it is not. So right off the bat, we can safely conclude that it's not the lens for the traditional backup camera, called the Rear Vision Camera in GM parlance. That's because the lens for that feature is placed at the top-most portion of the cutout for the license plate housing.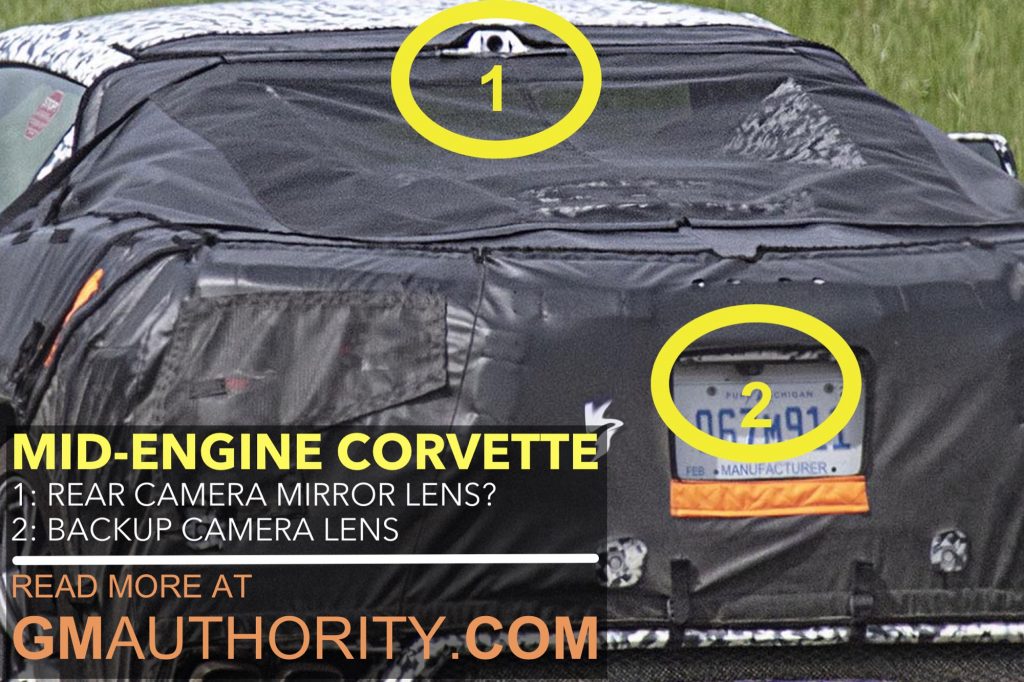 What It Can Be
Knowing that the peculiar element in question is not the lens for the backup camera leads us to hypothesize that it could be the lens for the Rear Camera Mirror – which uses an entirely different camera and lens technology from the "regular" rearview camera.
If the roof-mounted object, in fact, a lens for the Rear Camera Mirror, then it will be GM's first implementation of the lens on the roof, as all current implementations of the technology have the lens immediately adjacent to that of the standard back-up camera in the license plate cutout. That said, we image that placing the lens for the Rear Camera Mirror on the roof, rather than in the license plate area, would make it difficult to also install the Rear Camera Mirror washer, due to space-related constraints.
Other potential explanations of the roof-mounted circular element is that it's part of the aerodynamic kit for the mid-engine Corvette, or perhaps associated with the removable targa-style roof, though we would have imagined such elements to be better disguised in the body.
Discrepancies
It should be noted that not all prototypes for the mid-engine Corvette have the black circular object on the roof. At least one prototype of the upcoming sports car (pictured below) has been spotted testing without it, potentially indicating that the feature enabled by the object will be optional on the production model.
That line of thinking makes sense, since we can see the Rear Camera Mirror being an optional feature on the mid-engine Corvette, with models without the technology sticking to a traditional auto-dimming rearview mirror. Notably, the Corvette currently does not offer the Rear Camera Mirror, but Chevrolet will begin offering the feature on the 2019 Camaro refresh as an option, so it shouldn't come as much of a stretch to see the same kind of approach on the future Corvette.
Discussion
Discuss the mid-engine Corvette in our Chevrolet forums.
News
Follow GM Authority's exclusive coverage of Corvette news and mid-engine Corvette news.
Mid-Engine Corvette Photo Gallery