2019 Camaro Facelift Spied Testing Once Again
8
Chevy continues to test the upcoming the 2019 Camaro facelift, caught once again testing with camo wrapping the car's front and rear ends.
Thanks to camouflage clearly hiding changes to the front and rear, we still can't make out exactly what's lurking behind the wrap. But that doesn't mean we can't try.
The front of the 2019 Camaro seems to be the area of the biggest cosmetic changes, including:
New headlight clusters that are either all-LED or contain LED elements. This could mean that the horizontal (on SS models) and vertical (on LS, LT and LZ1 models) LED strips – the ones positioned below the main headlight of 2016-2018 Camaros – might be going away for the 2019 model year.
A more aggressive muzzle, perhaps closer in line with the gen six ZL1.
A potential reconfiguration of the lower valance/airdam.
The side of the 2019 Camaro facelift will go untouched, but the changes to the revised front and rear ends might give the sports car a slightly different presence compared to the 2016-2018 models.
The rear is getting a few minor nips and tucks of its own and we are lucky to be able to more clearly make out that portion of the car, which – unlike the front – is adorned only with a simple camo-textured wrap.
Specifically, the rear end of the 2019 Camaro seems to take on a blockier shape as a result of:
Different treatment of the rear bumper cover just below the taillights. In fact, the 2019 Camaro seems to do away with the convex-like lines that curiously draw the eye toward the rear license plate cutout on the 2016-2018 model.
A differently-shaped license plate cutout area.
A more sweeping treatment of the rear valance just aft of the rear wheel.
Overall, it doesn't seem like the cosmetic changes of the 2019 Camaro facelift are that extensive, but it's very possible that the camouflage is doing its job to trick the eye.
Notably, these spy shots follow new interior shots of the refreshed Camaro, which put and end to the rumor that the model will utilize a seven-speed manual transmission. Instead, the vehicle will keep the six-speed manual options from the 2016-2018 models.
About 2019 Camaro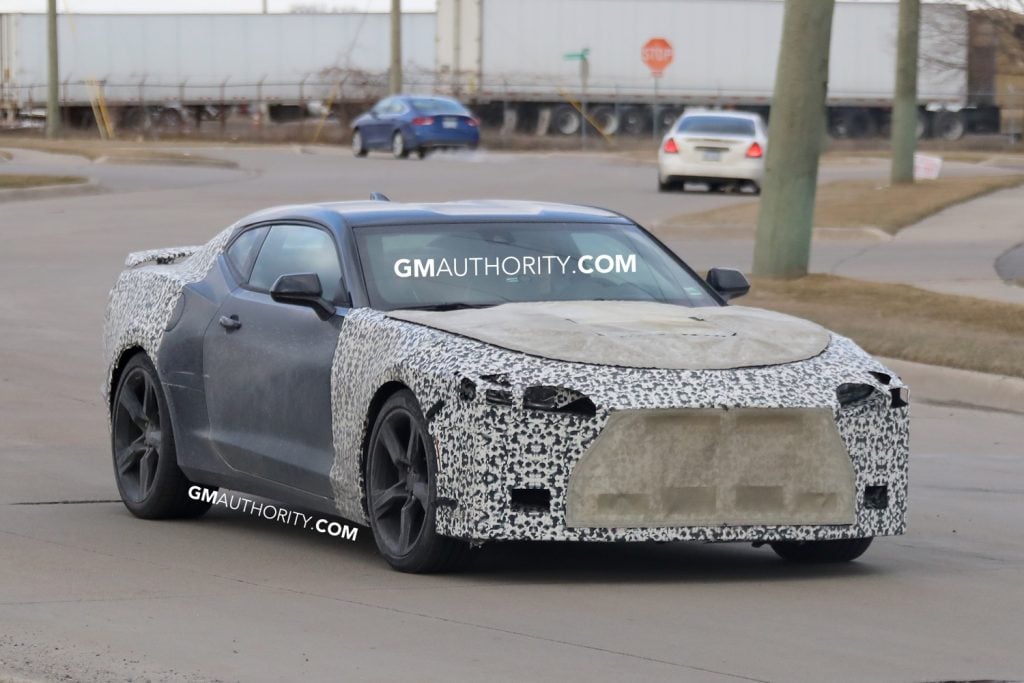 The 2019 Camaro will represent the fourth model year of the sixth-generation Chevrolet Camaro. Outside of re-arranged trim levels, equipment, features and associated pricing structures, the sports car will feature new front and rear facias – as shown by the camouflage on the front and rear ends of prototype models. Other updates are also possible, including changes to the interior and powertrain (in the form of new engines and transmissions), along with the introduction of a Z/28 model.
We expect Chevy to reveal the 2019 Camaro in the March-April 2018 timeframe, either at or in the vicinity of the 2018 New York International Auto Show.
More Information & Resources
2019 Chevrolet Camaro