Brazil Has A Song Dedicated To A Yellow Camaro
4
Brazil is obsessed with the Chevrolet Camaro, as evidencedby a song dedicated exclusively to the sports car. That's more than Americans can say about their native sports car.
Camaro Amarelo in Portuguese, or Yellow Camaro in English, the song was released by Brazilian pop group Munhoz & Mariano back in 2011. The track quickly rose to popularity, holding Brazil's most popular song title for two weeks straight. What's more, the music video for the song was the country's most-viewed YouTube video in 2012.
Though we have complete lyrics for the catchy track just below (in both English and Portuguese), we could save you the trouble of reading them and give you the synopsis right: the protagonist, who rides an unimpressive Honda CG Motorcycle, is interested in a girl, but she doesn't give him the light of day. But then, he comes into some money by way of an inheritance and buys himself a Camaro. Suddenly, the girl becomes very much interested in him. But now, the tables have now turned: he is "overflowing with women" from which to pick and choose.
The song's music video, which you can watch above) starts off with footage of a yellow fifth-gen Camaro SS, complete with shots of the exterior and interior, accompanied by sexy notes of the model's 6.2L LS3 V-8 Small Block engine and exhaust notes.
The Camaro is a status symbol in Brazil, partly because the sports car's obvious sex appeal, and partly because of its price. The Camaro Coupe starts at 310.000 Brazilian Reals, or $95,836 USD, while the Camaro Convertible starts at 343.000 Brazilian Reals, or $106,000 USD. If that sounds expensive, it's because it is. In Brazil, the Camaro is only available in the fully-loaded 2SS trim level level with the optional automatic transmission. The same model costs slightly less than $50,000 USD in America. The other 50 grand is the result of Brazil's draconian import tariffs, which are designed to encourage local investment in manufacturing, as opposed to importing the vehicles.
Overall, the Camaro seems to be a textbook example of a halo product, one that has significantly strengthened the overall image of the Chevrolet brand in Brazil. After all, Chevy is Brazil's best-selling car brand and the Chevy Onix is the country's best-selling car.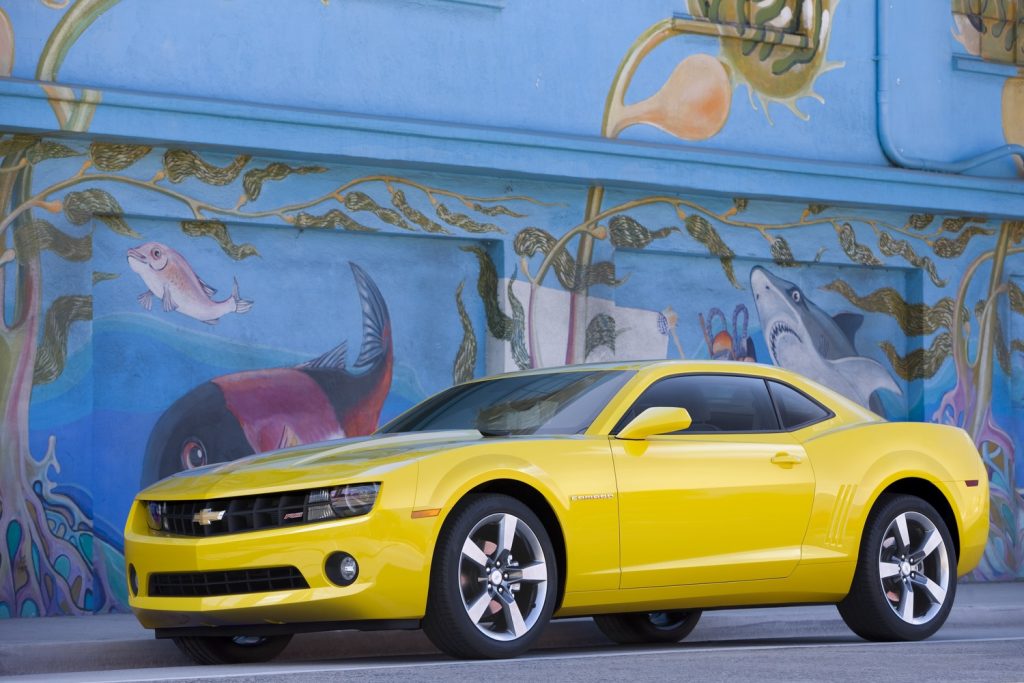 Translated lyrics (Portuguese to English)
Translated by Alex Luft
And now I've become sweet, sweet sweet, sweet
And now I've become sweet, sweet sweet, sweet
And now I've become sweet, sweet sweet, sweet
And now I've become sweet, sweet sweet, sweet
And now I've become sweet, just like caramel [candy] Having and getting noticed in my yellow Camaro
And now you tell me, "Come here, I want you"
Whenever I drive my in my yellow Camaro
Whenever I rode by in my CG [inexpensive Honda motorcycle] You didn't even look at me
I did everything so that you could see me, pay attention to me
But you didn't even look at me
And that's when I got my inheritance
Which solved my financial situations and all my problems
And overnight, I became rich
Now I'm wearing expensive brands
I'm like a boss
Now I've become sweet, like a caramel [candy] Having and getting noticed in my yellow Camaro
And now you tell me, "Come here, I want you"
Whenever I drive my in my yellow Camaro
And now you see me, right? And now you want me, right?
But now, I'm overflowing with women… and I have the power to pick among them
And now, all of a sudden, you see me, right? And now, all of a sudden, you want me, right?
But now, I'm overflowing with women… and I have the power to pick
Whenever I rode by in my CG [inexpensive Honda motorcycle] You didn't even look at me
I did everything so that you could see me, pay attention to me
But you didn't even look at me
And that's when I got my inheritance
Which solved my financial situations and all my problems
And overnight, I became rich
Now I'm wearing expensive brands
I'm like a boss
Now I've become sweet, like a caramel [candy] Having and getting noticed in my yellow Camaro
And now you tell me, "Come here, I want you"
Whenever I drive my in my yellow Camaro
And now you see me, right? And now you want me, right?
But now, I'm overflowing with women… and I have the power to pick among them
And now, all of a sudden, you see me, right? And now, all of a sudden, you want me, right?
But now, I'm overflowing with women… and I have the power to pick
Now I've become sweet, like a caramel [candy] Having and getting noticed in my yellow Camaro
And now you tell me, "Come here, I want you"
Whenever I drive my in my yellow Camaro
And now I've become sweet, sweet sweet, sweet
And now I've become sweet, sweet sweet, sweet
And now I've become sweet, sweet sweet, sweet
And now I've become sweet, sweet sweet, sweet
Original lyrics in Portuguese
Agora eu fiquei doce, doce, doce, doce
Agora eu fiquei do-do-do-do-doce, doce
Agora eu fiquei doce, doce, doce, doce
Agora eu fiquei do-do-do-do-doce, doce
Agora eu fiquei doce igual caramelo
'Tô tirando onda de Camaro amarelo
Agora você diz "vem cá que eu te quero"
Quando eu passo no Camaro amarelo
Quando eu passava por você na minha CG
Você nem me olhava
Fazia de tudo pra me ver, pra me perceber
Mas nem me olhava
Aí veio a herança do meu véio,
Resolveu os meus problemas, minha situação
E do dia pra noite fiquei rico
'Tô na grife, 'tô bonito
'Tô andando igual patrão
Agora eu fiquei doce igual caramelo
'Tô tirando onda de Camaro amarelo
Agora você diz: "vem cá que eu te quero"
Quando eu passo no Camaro amarelo
Agora você vem, né e agora você quer, né?
Só que agora vou escolher, 'tá sobrando mulher
Agora você vem, né e agora você quer, né?
Só que agora vou escolher, 'tá sobrando mulher
Quando eu passava por você na minha CG
Você nem me olhava
Fazia de tudo pra me ver, pra me perceber
Mas nem me olhava
Aí veio a herança do meu véio,
E resolveu os meus problemas, minha situação
E do dia pra noite fiquei rico
'Tô na grife, 'tô bonito
'Tô andando igual patrão
Agora eu fiquei doce igual caramelo
'Tô tirando onda de Camaro amarelo
Agora você diz "vem cá que eu te quero"
Quando eu passo no Camaro amarelo
E agora você vem, né e agora você quer, né?
Só que agora vou escolher vou, tá sobrando mulher
Agora você vem, e agora você quer
Só que agora vou escolher
Agora eu fiquei doce igual caramelo
'Tô tirando onda de Camaro amarelo
E agora você diz "vem cá que eu te quero"
Quando eu passo no Camaro amarelo
E agora eu fiquei doce, doce, doce, doce
E agora eu fiquei do-do-do-do-doce, doce
E agora eu fiquei doce, doce, doce, doce
E agora eu fiquei do-do-do-do-doce, doce