2019 Buick Envision Bows With Updated Looks And Customer-Focused Improvements
26
The Buick Envision endured a bumpy journey to the United States. It became General Motors' first vehicle to be imported from China to the United States and Canada, and its rushed arrival signaled the brand's eagerness to fill the gap between Encore and Enclave. With the 2019 Buick Envision, the brand thinks it has tweaked the right things for a winning recipe.
Buick officially unveiled the 2019 Envision on Monday with a freshened design and numerous small changes to the crossover. Buick previously showed the 2019 Envision last year after a debut in China, but the brand is only now making it official in North America.
The biggest change comes with the exterior design, which falls in line with Buick's recent design trend. Winged LED lighting elements with a new winged and dark waterfall grille look much more at home than the dated grille on the current Envision. Buick's colored badge also makes its way to the 2019 Envision. All Envisions will receive the winged LED lighting accents as standard, while the bi-functional LED lights are standard on the top two trims.
The rear's is more chiseled with a less rounded and frumpy look, too. Ditto for the taillights, which take on an angular style.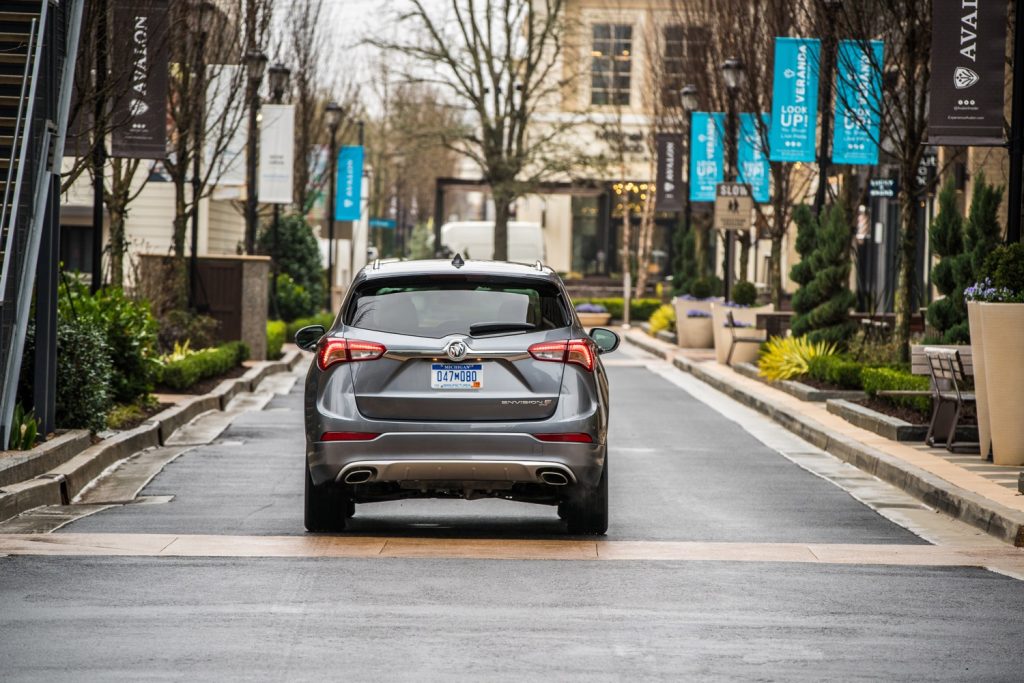 Other changes to the 2019 Envision come from customer feedback in an effort to build "the most refined and pleasant driving experience possible," Elizabeth Pilibosian, Envision chief engineer, said.
The base powertrain remains the same with the a 2.5-liter four-cylinder engine (LCV) mated to a six-speed automatic. However, the optional 2.0-liter turbocharged LTG four-cylinder engine gets GM's latest nine-speed automatic transmission. Torque is also up on turbo models from 260 to 295 pound-feet. Front and all-wheel-drive remain optional on the base crossover as well.
And, perhaps to resounding applause, owners will be able to turn off the 2019 Envision's start/stop feature, though Buick says the system's revised calibration offers an even more seamless experience.
Buick also called out a few other small, but notable updates with the 2019 Envision. The seats' heating elements come to temperature quicker than before; next-generation wireless charging is onboard; the cabin boasts an air ionizer; visibility is improved with the rear vision camera; and an upgraded microphone provides better in-call audio and voice recognition.
The new 2019 Buick Envision will reach dealerships this spring, and assuming the destination fee remains $995, pricing actually decreases for a base model. The current Envision starts at $34,990 with destination, but the 2019 Envision rings in at $32,990 before destination. That would put the base model at $33,985.
The trim hierarchy's pricing jumps to $34,495 for the Preferred trim, $36,795 for an Essence model, $41,695 for the Premium trim and $44,595 for the Premium II trim.
2019 Buick Envision