2019 Silverado Reveal Video: Can You Guess The Engine?
21
Recently, we speculated on whether or not the 2019 Silverado 1500 will introduce a diesel engine as well as a turbo-charged gasoline engine lineup. We won't know for sure until the truck's official debut on January 13th, but that hasn't stopped us from observing something noteworthy in the 2019 Silverado reveal video.
At two different points in the video, we can hear the new Silverado's engine note as it traversed the Texas Motor Speedway at the Chevy Truck Centennial celebration on December 16th. The first time takes place at the 1:11 mark, as the truck drives off to pose in front of attendees after being dropped off by the helicopter. The second is at the 1:30 mark, as the Silverado drives away from the grand stands after Alan Batey makes the reveal presentation.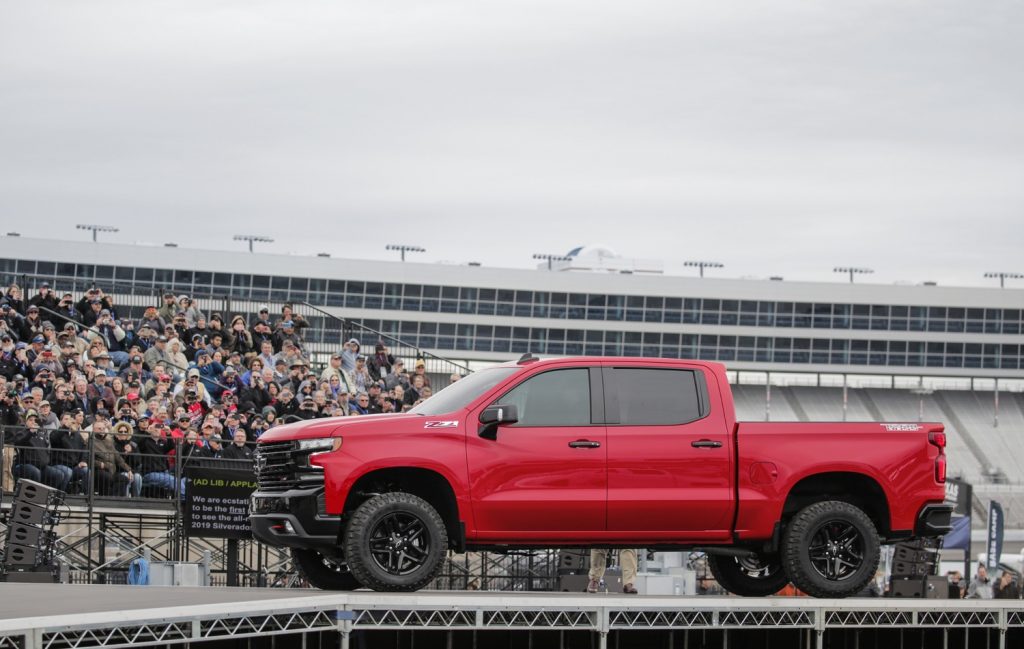 Though GM Authority was on hand during the reveal event at the Texas Motor Speedway, no one was allowed next to the truck, making it difficult to hear the engine and deduce what engine was powering it. But this 2019 Silverado reveal video gives us two specific instances, albeit short ones, where we can hear the engine at work. At both times, the truck is accelerating.
So, watch the video and listen carefully at the 1:11 and 1:30 marks, and then tell us in the comments what motor you think is lurking under the hood of Chevy's all-new truck… is it a big and burly V-8, or a boosted V-6 or perhaps an inline-four? Our guess is on the first option – a big and powerful V-8, possibly in the form of the 6.2L V-8 L86.
About 2019 Chevrolet Silverado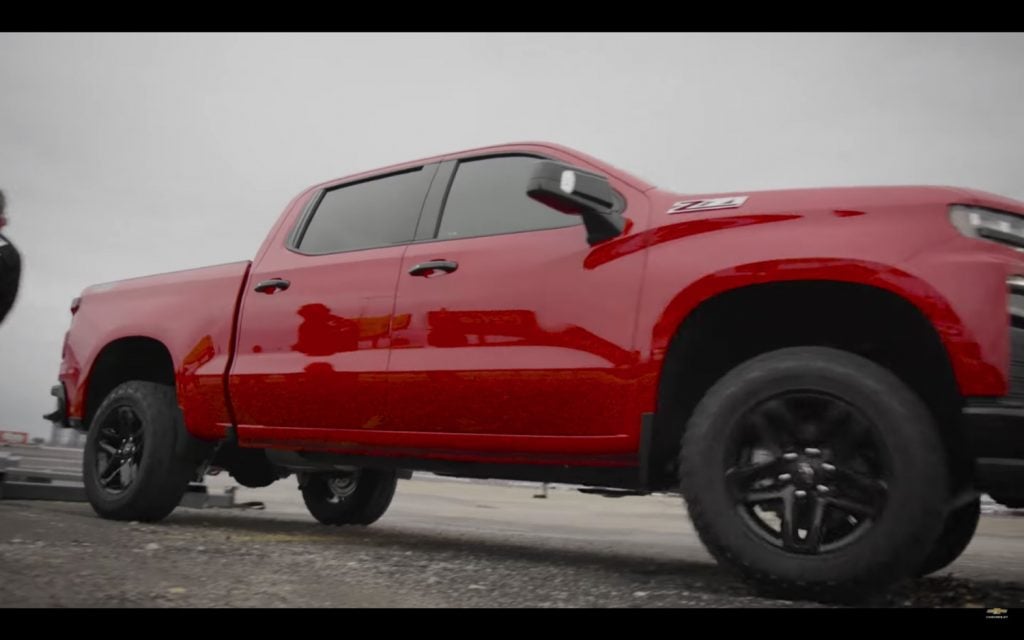 The 2019 Silverado 1500 was surprisingly revealed at the Chevy Truck Centennial celebration in Texas on December 16th. Chevrolet says that the all-new truck is the result of over 7,000 customer interviews – the most intensive research in its history. The brand has stated that the pickup will use "higher grade alloy steel" in the bed floor as well as various mixed materials that will result in a reduction in weight and improved performance. The truck will also offer an expanded amount of models for a total of eight, including the new 2019 Silverado Trailboss, with more engine/transmission combinations and more technology and convenience features. The new truck is believed to ride on GM's new T1 platform set to be shared with other full-size trucks and SUVs.
We'll know complete details about the new Silverado, including exactly the engines that will power it, at Chevy's upcoming media event scheduled for January 13th, 2018 ahead of the 2018 North American International Auto Show. In the meantime, be sure to follow our Chevy Silverado news coverage.
2019 Chevrolet Silverado 1500
More Information & Resources