2019 Chevy Malibu Spy Shots Show New Grille And Lights
19
The 2019 model year will bring about a refresh for Chevy's midsize Malibu sedan, and these new 2019 Chevy Malibu spy shots show the car wearing less camouflage than before, thereby revealing a few interesting details.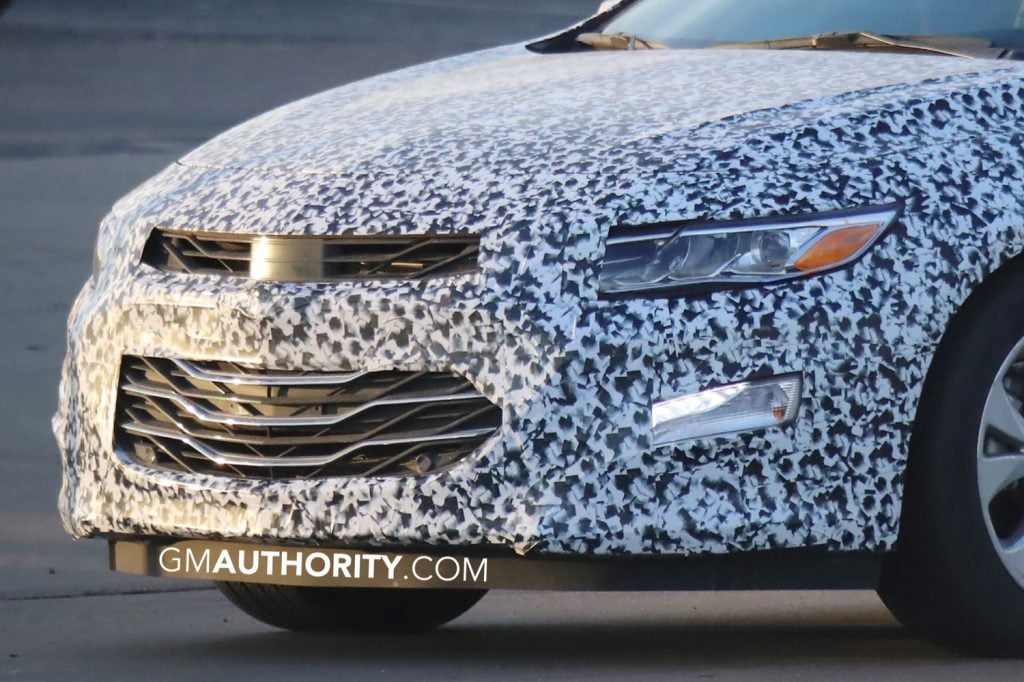 Out front, the 2019 Malibu shows a revised grille that appears to be significantly more aggressive than the current model. New headlights flank the redesigned grille… but we can't tell with absolute certainty if the cluster houses a full-LED setup or High Intensity Discharge (HID) lighting via projector beams. The LED accent lights on the lower facia also appear to have been redesigned.
Out back, these new 2019 Chevy Malibu spy shots show a revised exhaust outlet along with new taillamps that are in line with those seen on the 2018 Equinox.
Despite the rest of the car being camouflaged, we don't see many other changes outside of those we have mentioned. It's also difficult to tell whether the interior will get any updates based on these spy photos.
Under the hood, expect the 2019 Chevy Malibu to offer the GM 1.6 liter turbo-diesel engine (LH7) that is offered in the Cruze Diesel, Equinox Diesel and Terrain Diesel. In the Cruze, the motor makes 137 horsepower (102 kW) at 3750 RPM and 240 pound-feet (324 Nm) of torque, while delivering an impressive 31 mpg city, 47 mpg highway and 37 mpg combined.
The current Chevy Malibu was introduced for the 2016 model year, representing the eighth generation of the nameplate. But despite addressing many complaints with the previous model, with the biggest being a small rear seat, sales have been on a steady decline over the past 16 months as a result of aggressive in-market sales tactics by the likes of Nissan (Altima) and Hyundai (Sonata). In addition, all-new launches from the segment's stalwarts – Toyota (Camry) and Honda (Accord) that are arguably more exciting than Chevy's entry, as well as the ongoing shift in consumer buying dynamics from sedans to utilities (crossovers/SUVs) have stifled the Malibu from reaching the sales success many were hoping to see. Check out historic Chevy Malibu sales.
Expect to see the Chevy Malibu refresh revealed at an auto show in the coming months.