Chevrolet Snags A Spot On Top 10 Electric Vehicle Manufacturers
2
General Motors and Chevrolet have been one of many automakers to embrace not only the plug-in electric vehicle but the battery electric vehicle, too. If the automaker's early adoption pays off remains to be seen, but for now, the numbers don't lie.
Chevrolet rounded out the list of the world's top 10 electric vehicle manufacturers, according to Forbes, via JATO Dynamics. The list itself represents the total number of BEVs sold, not delivered or ordered by dealerships. Just the cold, hard, sales figures.
Since the beginning of 2017 through March, Chevrolet has sold 3,432 BEVs, exclusively representing 2017 Chevrolet Bolt EV sales. The Chevrolet Volt is not included in the list since it's not a purely battery electric vehicle. That figure puts Chevrolet on the heels of BMW, which sold 3,662 BEVs through March.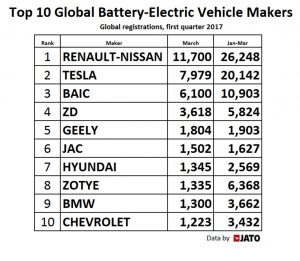 The 2017 Bolt EV launched this past December, fulfilling GM's promise to put its affordable BEV on the market during 2016.
There are a few interesting takeaways from the data. Foremost, most of the companies listed are exclusive to China. In fact, half of the list deals in China. Renault-Nissan snagged the top spot, which sells BEVs in multiple global markets. Though, Europe is responsible for most sales.
This is significant because the Bolt EV is just now rolling out across the entire U.S., and barely trickling into Canada. When the Bolt EV launches nationwide later this year, it will be interesting to see how Chevrolet stacks up.