Chevrolet Camaro Track Concept Wants To Be An Everyday Sports Car For Europe
3
At first glance, the Chevrolet Camaro Track concept seems unnecessary, but the brand has managed to find the smallest of gaps between the Camaro SS and Camaro 1LE to squeeze a potential package in-between.
Taking the best of the 2017 Camaro SS, the Chevrolet Camaro Track concept was revealed at the 2017 Geneva Motor Show with just enough performance to put it a cut above the SS and just below the Camaro 1LE.
Finished in Satin Green and unique hood stripes, Chevrolet says the Camaro Track concept boasts additional engine, transmission and differential coolers and leverages an upgraded FE4 Magnetic Ride suspension that's 1.18 inches (30mm) lower for improved cornering capability. And all of this is said to be specifically tuned for the magnetic dampers, springs and stabilizer bars.
There's also an electronic limited-slip differential, six-piston Brembo brakes and an added aero package to reduce lift at higher speeds. And all of the power produced from the 6.2-liter LT1 V8 engine is sent to an eight-speed automatic with Goodyear Eagle F1 tires providing up to 1G of lateral acceleration.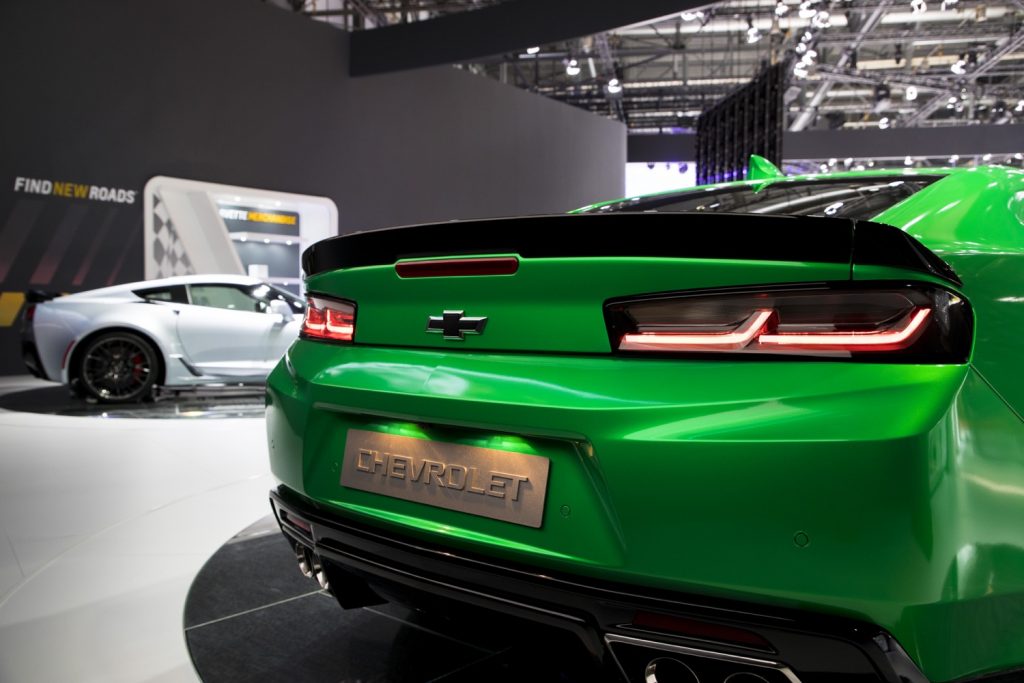 In essence, the Camaro Track concept can be described as a Camaro SS 1LE with an automatic transmission (a combination that is not offered with the 1LE package), or a Camaro SS equipped with various Chevrolet Performance Parts sold in North America. As such, this vehicle is not being considered for production in America, as we do have the Camaro 1LE in both V6 and V8 flavors. However, Chevrolet says that an "adequate selection" of the Camaro Track Concept will become available in Europe in the near future.
2017 Chevrolet Camaro Track Concept Pictures