Purists Beware, This Renegade Hybrid Porsche 911 Is Fitted With A 600 HP LS7 V8
0
Renegade Hybrids is a Las Vegas-based performance shop that specializes in domesticating Porsche vehicles. That is, they're the go-to guys if you're wanting an LS-swap for your German sports car, and the founder of the company, Scott Mann, has been doing it since 1983.
Autoweek had the pleasure of speaking to Mann about an LS7-swapped Porsche 911 Turbo he built for a customer in Indiana. Some might say that swapping in the LS7 V8 with 600hp is "the easy way out," but there's nothing easy about it. It's cost effective, it offers piece of mind, and it provides a better powerband. Sure, you could call it cheating. Or you could call it smart.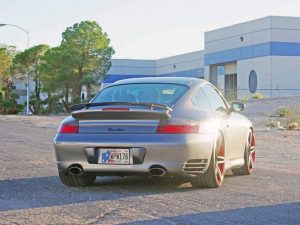 If you want the shop to do the work, it'll cost you about $30,000. So, for almost the price of a new 2017 Camaro, you can add some American greatness to your European sports car. If you wanted to save a few bucks, Renegade does offer the kits for sale online.
Conversion kits for the 996 and 911 start at $3,895, and $2,600 respectively. Though if you take into consideration the amount of money you're likely going to spend on everything you'd need along with the complexity of the job, having Renegade handle the operation seems like the viable option.
To clarify, Renegade Hybrids doesn't focus solely on Porsches. While browsing the shop, Wesley Wren of Autoweek noted a Lotus Esprit with an LS3, Corvette Z06, and, the one we're most intrigued by, a Yenko Camaro. But, going back to Porsches, there's also an LS3-swapped Boxster than Mann uses for his daily commute, and we'll have more on that build next time.
GM Authority is looking for professional automotive journalists with at least three years of experience to join our rapidly-growing team. We pay between $60,000 and $80,000 per year. More details
here
.