Rendered: 2018 Buick Regal
45
Our good friend RM Design has graced us with a rendering of the next-generation, 2018 Buick Regal.
Note, an earlier version of this article identified the rendering as a 2017 Buick Regal, but we believe that the all-new vehicle will be a MY 2018 instead.
After scrutinizing spy shots, penning the profile right and grabbing influence from the latest Buick and Opel concepts, we think the 2018 Regal could wear lines pretty similar to those seen here. Up front, the new darkened waterfall grille is present, along with the winged chrome pieces via Buick Avenir concept.
Angular LED headlamps also present themselves as more production-intent from the Buick Avista concept, while strong hood lines pull the viewer's eye towards the front. The front end and side profile are elegant yet masculine, but rather athletic looking.
Out back, a sloping roofline akin to the 2017 Buick LaCrosse provides a four-door coupe profile. LED taillamps with horizontal stripes keep the design within the Buick-Opel-Vauxhall family, though the lamps are much less rigid on the rendering than they are on the 2017 LaCrosse. One prominent style line draws the eye from the front quarter panel, back to the taillight, taking inspiration from the LaCrosse's sweepspear.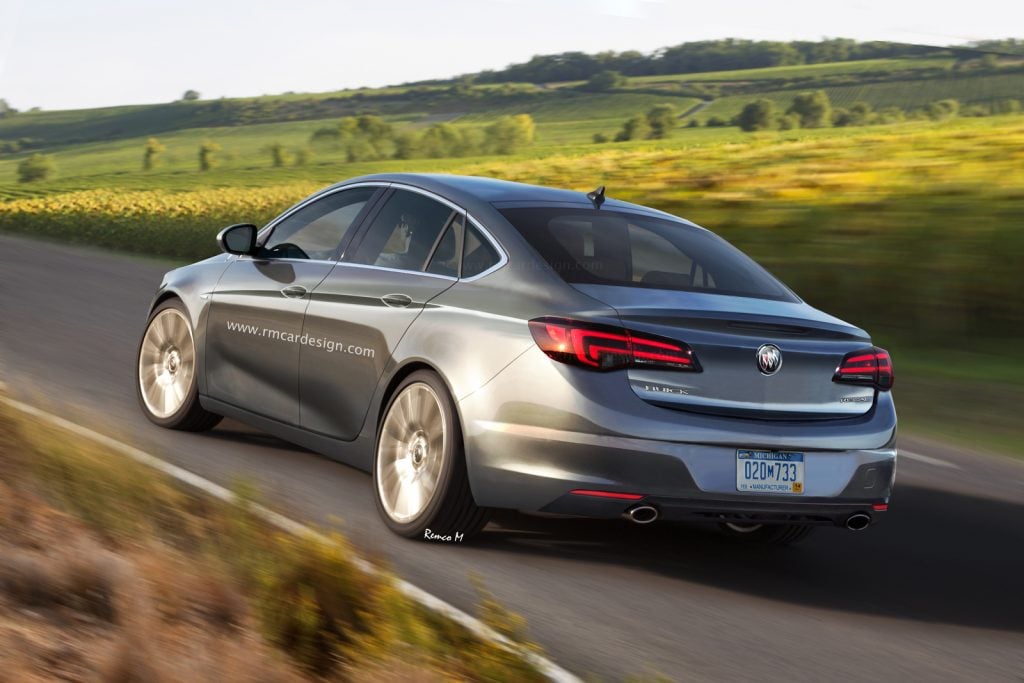 The 2018 Buick Regal will sit atop GM's E2XX bones. It will be larger than the current model, with most of the room showing in the rear seat. The 2016 Chevrolet Malibu is a good size indicator, which leaves enough space for the 2017 LaCrosse to sit as Buick's flagship sedan. The growth will also be attributed to a longer wheelbase, allowing for the wheels to look planted at each corner, giving the car a well-placed stance.
So, how about it? Should the 2018 Regal look something like this? We feel it's a pretty good look at what you'll be seeing in the near future.