Feature Spotlight: The 2017 Chevrolet Camaro ZL1's Flowtie
3
It's the little things, it always is. Yesterday, we highlighted the finer details of the 2017 Chevrolet Camaro ZL1's interior cabin, including its (sexy) red seatbelts. Today, we're looking at the exterior of the 2017 Camaro ZL1, and we're here to talk about the flowtie.
For those not in the know, no, we didn't misspell the word "bowtie." The flowtie is real, and it has become a phenomenon since its introduction on the fifth-generation Chevrolet Camaro Z/28. Here's the story: during development of the last-generation Camaro Z/28, engineers noticed the standard issue Chevrolet bowtie was directing air away from the radiator, compromising cooling efficiency.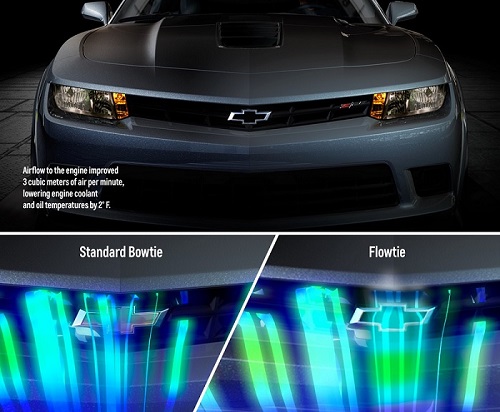 The solution? A silhouette of the bowtie, with its innards opened for maximum air flow; the flowtie was born.
On the fifth-generation Z/28, the flowtie helped push an additional three cubic-meters of air through the grille per minute. Thus, allowing for a two degree drop in coolant and oil temperatures.
While we don't have specifics of the flowtie's improvement for the 2017 Camaro ZL1, we'll bet its improvements far outweighed keeping the traditional bowtie. Bowties for class, flowties for fast.