Buick To Set Global Sales Record For Third Consecutive Year In 2015
5
General Motors' premium brand, Buick, is expected to set another global sales record in 2015, its third consecutive year of doing so.
The brand states that in mid-December, its annual sales for the 2015 calendar year have surpassed a record 1,170,115 vehicles thanks to record sales in China, and record crossover sales in the United States. The brand expects that by the end of 2015, total Buick sales will surpass 1.2 million vehicles.
"Buick's momentum is undeniable as new customers worldwide discover Buick's lineup of beautiful, approachable premium vehicles," said Duncan Aldred, vice president of Global Buick.
Moreover, the Tri Shield brand believes there is even more upside when looking ahead at 2016 thanks to new vehicle launches such as the 2017 Buick LaCrosse full-size sedan globally and the North American launch of the 2016 Buick Envision compact crossover.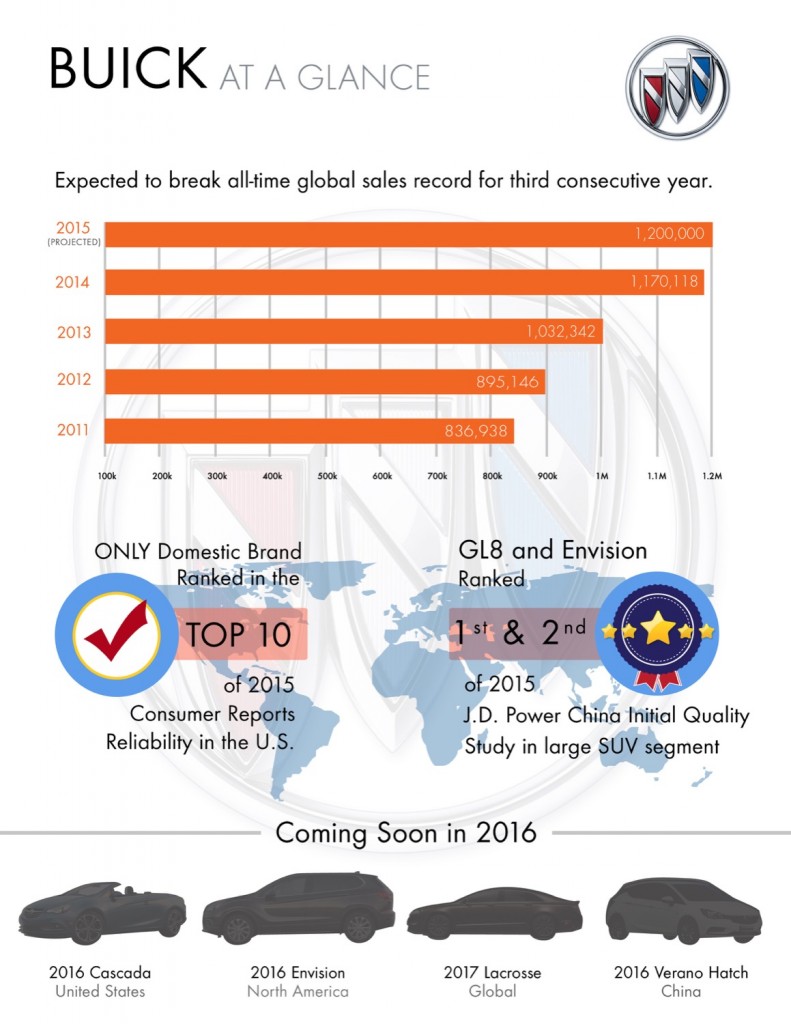 "We think 2016 will be another watershed year for the brand with the global launch of the new 2017 LaCrosse, the North American launch of the Envision, the U.S. launch of the Cascada, and the Chinese launch of a new Verano hatchback. Our products and our customer service have never been better."
China Up, U.S. Down
Buick officially markets its vehicles in four markets — China and the three North American markets — the United States, Mexico, and Canada.
In China, annual Buick sales are expected to reach 1 million units for the first time ever. Launched this year, the all-new Excelle GT is the country's best-selling model.
In the United States, Buick sales are down 3 percent to 202,347 units for the first 11 months of the year. In Canada, Buick sales have decreased 9.45 percent to 15,601 units through the first 11 months of 2015.
Crossover Growth Rockets
The popularity of crossovers has significantly contributed to Buick sales volume in all markets. In the U.S., sales of the Encore subcompact CUV have grown for 23 consecutive months and are on track to become the single best-selling Buick model in eight years. Combined with China, Encore sales will top 140,000 vehicles globally.
Across the industry, crossover sales have increased 3 percent in the U.S. in 2015, accounting for 40 percent of all new vehicles sold. Those numbers translate to the Encore and Enclave accounting for 60 percent of U.S. Buick sales so far this year.
J.D. Power Wins
The GL8 and all-new Envision compact crossover ranked first and second, respectively, in the 2015 J.D. Power China Initial Quality Study (IQS) in the large SUV segment. The Envision, which was also named Motor Trend SUV of the Year in China, will mark its first full year of production with more than 130,000 sales. It will go on sale in all North American markets in 2016.
In the U.S., Buick has topped J.D. Power Customer Service Index (CSI) rankings among mass-market brands for two straight years.
Going Forward
Buick is launching a breadth of new products in 2016, including the new 2016 Cascada, Buick's first convertible in 25 years. It goes on on sale in early 2016 in the U.S. In addition, the all-new 2017 LaCrosse full-size sedan — Buick's flagship and most advanced sedan ever – launches globally in the summer of 2016, while the Envision crossover looks to hit at the sweet spot of the crossover market when it arrives at North American dealers imported from China in the summer of 2016. In China, the new Verano hatchback and Verano GS are available for pre-order now. Those are all of the vehicles Buick has officially announced and confirmed.
But what we expect in 2016 that Buick has yet to announce is the all-new 2017 Buick Regal as well as the all-new 2017 Buick Verano. All in all, looks like Buick is about to get that major product offensive and associated sales boost that it has been waiting for pretty much since GM's 2009 bankruptcy.
Besides bringing you the latest GM News, GM Authority also has a great forum where you can post topics, ask and answer questions as well as discuss all things GM. Visit the
GM Authority forum
today!