2016 Chevrolet Camaro Convertible Leaked Ahead Of Debut
6
This past Friday, Chevrolet quietly dropped a quick video teasing the 2016 Chevrolet Camaro convertible, which it planned to reveal on June 24. Well, here we have it days early in all its soft-top glory.
The images were posted to the official Chevrolet website before quickly being taken down. Camaro6.com grabbed snapshots of them before they disappeared, however. As you can see, no true stylistic changes have surfaced, but it arguably looks much better than the previous convertible variant.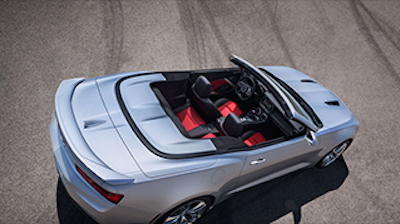 Now we wonder when a Cadillac ATS convertible will show face, since Alpha can clearly wear the body style in a very handsome matter. Feast your eyes on the low-resolution images below. We'll have full details once the 2016 Camaro convertible is properly unveiled later this week.