We Get Solo Performance Axle-Backs Installed On Our Resident 2009 Pontiac G8 GT: Part Two
0
Welcome back to the installation process of Solo Performance axle-backs, including an x-pipe, on my personal 2009 Pontiac G8 GT. This is it, the grand finale. Previously, we detailed the removal of the stock mufflers, and the axle-back installation. If you missed part one, you can find it right here. Today, we'll look at removing the G8's mid-muffler and welding the x-pipe in place. Without further ado:
Attention turned to the mid-muffler. As the name implies, it's near the middle of the exhaust system.
This is the part where this process becomes much less DIY, unless you have professional tools lying around. With a sawzall in hand, surgery had begun. Make sure it's a nice, clean cut from the exhaust to ensure a clean weld when it comes time to add the x-pipe.
With the mid-muffler off, the pipes were cleaned up for a proper weld. This mid-muffler's muffling days were over.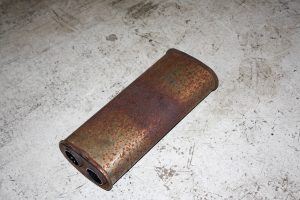 Next, I prepared for a light show when the welding tools were brought out. But, we ran into a minor problem. The x-pipe fit the existing stock pipe, but was a tad too short. Not to worry, however, Big 3 quickly fashioned some stainless-steel piping and our install was back underway. You can see the extra piping in the photo below.
With that taken care of, the light show began. Welding is always the proper way to go with projects like this. Clamping can come loose and cause unwanted rattles in the system, it's better to do it correct the first time and avoid the hassle down the road (maybe quite literally down the road.)
And just like that, the x-pipe was installed. With all of the major work done, the guys and myself turned our attention to the final result. A little more adjustment was deemed required to ensure the tips weren't crooked, and this time we finally got it just right.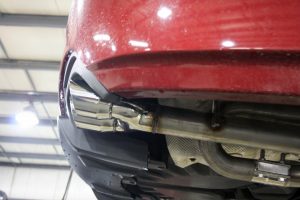 Earlier, I said my goal was to make sure the neighbors knew I was coming home every night. I succeeded. The car roared to life with a newfound bark the Solo kit alone didn't provide. The x-pipe made all the difference. This under-the-radar sport sedan wasn't so under-the-radar any longer.
I would like to thank Big 3 Racing for inviting me into their space to report on the entire process. Please, visit their site here for any automotive performance needs and to find more information on their expertise. Be sure to check back soon on impressions of the system for remarks on livability.
Thus concludes this how-to. Excuse me while I go make sure the neighbors know I'm coming home. Enjoy a brief sound clip of the final result in the video down below.