General Motors China Sales Up 1.3 Percent To 261,072 Vehicles In February 2015
2
General Motors and its joint venture partners sold 261,072 vehicles in China in February 2015, up 1.3 percent from February 2014. The results represent a new record for the month of February.
Shanghai GM
Sales at Shanghai GM — The General's primary joint venture in China responsible for Chevrolet, Buick, and Cadillac vehicle sales — grew 2.4 percent year-over-year to 148,227 units. Sales of Chevrolet and Cadillac grew, while Buick was down slightly.
Buick
February 2015 Buick sales dropped 0.1 percent year-over-year to 59,088 units. The best-selling model remained the original Excelle family, which was responsible for 18,247 units. It was followed by the Regal, whose sales grew 41.5 percent to 9,573 units. Sales of Buick SUVs grew 164.7 percent to 11,087 units.
Chevrolet
February 2015 Chevrolet sales increased 2.5 percent year-over-year to 47,521 units. The best-selling model was the Cruze, which was responsible for 18,520 sales. It was followed by the Sail family, which posted a 9.1 percent increase to 14,371 sales. The Malibu came in third, increased 11.2 percent to 9,119 units.
Cadillac
February 2015 Cadillac sales in the Chinese market increased 36.1 percent to 5,959 units. Sales of the ATS and ATS-L totaled 2,141 units while the SRX sold 2,140 units, up 7.9 percent.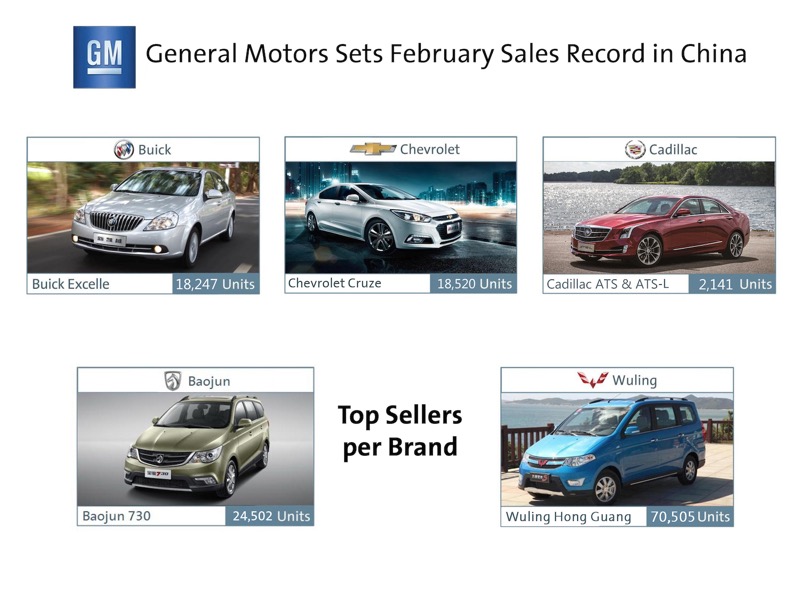 SAIC-GM-Wuling
SAIC-GM-Wuling's sales grew 3.9 percent to 148,227 units.
Sales of commercial vehicle brand Wuling were down 11.9 percent form February 2014 to 120,685 units. The brand says that the drop is due to a shift in market demand from mini-commercial vehicles to passenger vehicles such as the Baojun 730 MPV continues. The Hong Guang family remained the best-selling Wuling model, recording 70,505 sales.
Sales of the entry-level Baojun brand jumped 391.6 percent on an annual basis to 27,542 units, led by sales of 24,502 units of the Baojun 730 MPV.