The Facts And The Figures Of The GM Bailout: Part 1
GM Authority is looking for professional automotive journalists with at least three years of experience to join our rapidly-growing team. We pay between $60,000 and $80,000 per year. More details
here
.
27
It's no secret that General Motors is an extraordinarily healthy company that's making some of the best vehicles on the road today. And with public support for the U.S. auto bailout on the rise, it would seem that many have turned the corner on the idiotic Government Motors nickname for the automaker. Unfortunately, that's not the case… and we're not here to curb idiocracy. But what we can do is provide some factual information about the bailout, the current status of GM ownership, and the money repaid after the restructuring.
Current GM Ownership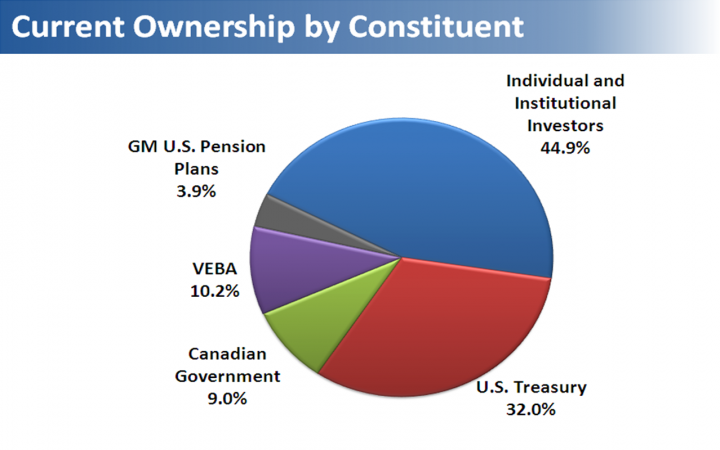 As you can see, individual and institutional investors — the common citizen, mutual funds, investment firms, etc. — make up the biggest piece of the ownership pie, at 44.9 percent. The U.S. Treasury comes in second at 32 percent while the Canadian Government at 9 — both for providing the funds needed to restructure The General. Furthermore, VEBA — the Voluntary Employee Beneficiary Association, created to service GM's health care liability for UAW-represented retirees, owns 10.2 percent; it's important to note that this isn't the UAW itself, but rather an agency working for GM's UAW member-retirees. Lastly, GM's U.S. pension plans own 3.9 percent of the automaker.
Composition of U.S. Treasury Support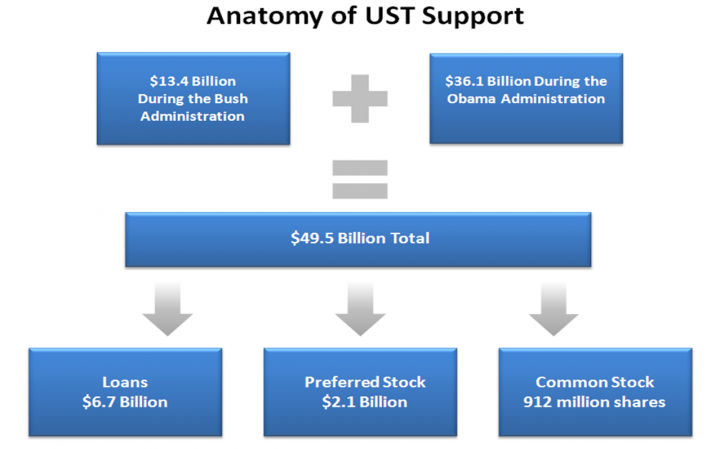 General Motors received two bouts of financial support from two separate presidential administrations during the depths of the recent economic recession: $13.4 billion came from the Bush administration — a decision the former President said he would make again — and $36.1 billion from the Obama administration, making up a total of $49.5 billion. This can be further broken down to $6.7 billion in loans, $2.1 billion in preferred stock, and 912 million units of common stock.
Moneys Repaid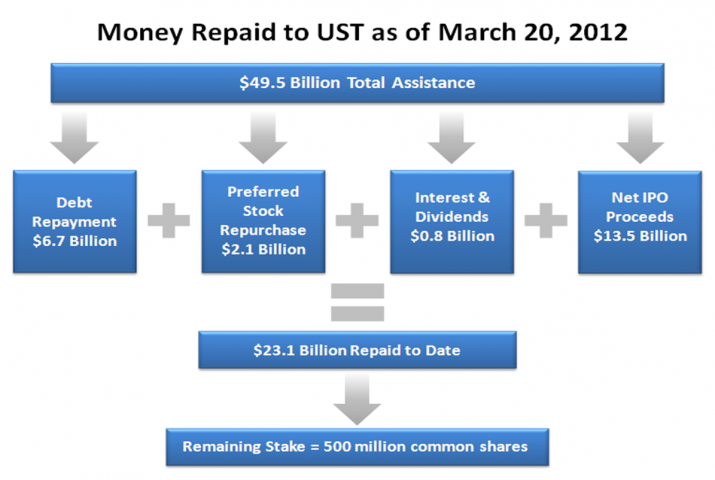 So far, the new General Motors has repaid $23.1 billion in a combination of debt repayment ($6.7 billion), preferred stock repurchase ($2.1 billion), interests and dividends ($0.8 billion), and the Initial Public Offering ($13.5 billion). For those curious about the time frame, it goes something like this:
April 2010 — GM repays $6.7 billion in loans
November 2010 — GM goes public and has the biggest IPO in history
December 2010 — GM repurchases Treasury's $2.1 billion in preferred stock
Since the Treasury has an equity stake in GM, it now owns 500 million common shares; this, notably, does not result in any official/legal debt owed by GM to the government, one way or another. What's more, General Motors does not in any way, shape, or form control when or how the Treasury rids itself of its remaining ownership — and the Treasury does not involve itself with the company's day-to-day operations. And while many are eagerly anticipating the day that GM is 100% free and clear of any kind of government ownership, the company's stock should be trading at approximately $50 a share for the Treasury to break even on the bailout; higher than $50 a share, to make a profit (if you believe in interest, that is).
The GM Authority Take
At the end of the day, the automotive bailout stabilized the industry and allowed it to regain its footing in a disastrous economic environment while saving an estimated one million jobs across the entire automotive ecosystem. And today, this same industry is earning profits, creating jobs, and making excellent products that are safe, fuel efficient, practical, and — in some cases — inspiring. Anyone have a problem with the facts?
GM Authority is looking for professional automotive journalists with at least three years of experience to join our rapidly-growing team. We pay between $60,000 and $80,000 per year. More details
here
.