General Motors Delivered 8.39 Million* Vehicles Globally In 2010, Still Lags Behind Toyota
0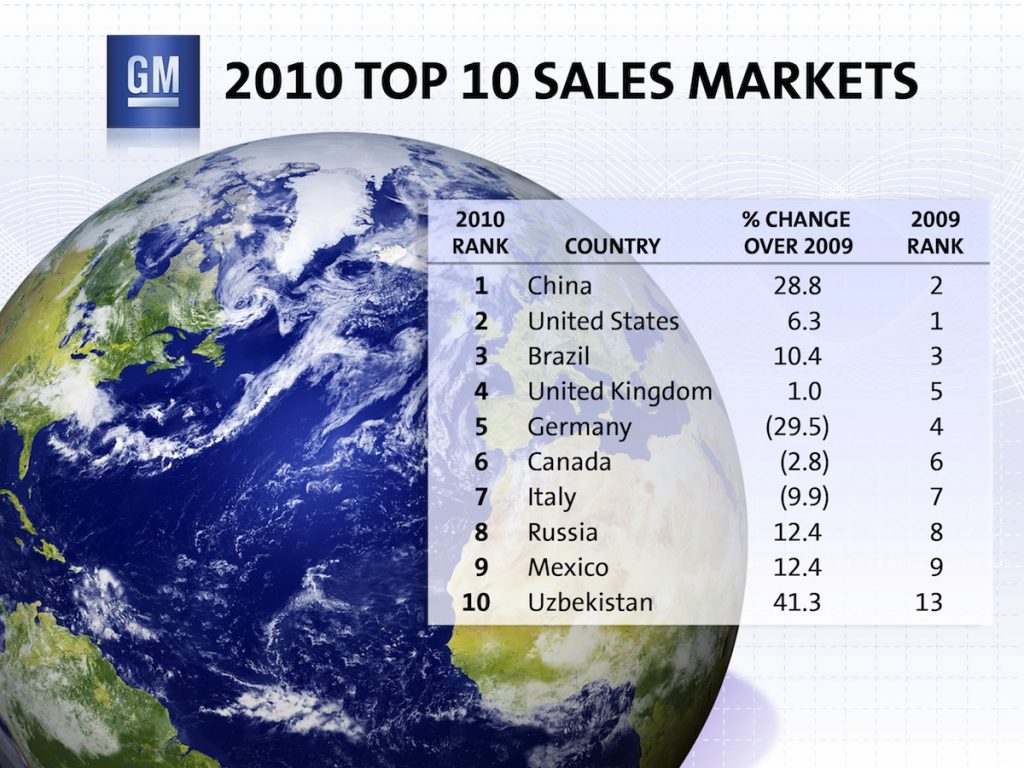 8,389,769: that's the amount of vehicles General Motors delivered globally in calendar year 2010. The number represents a significant 12.2 percent increase from 2009 levels of 7,477,178 units but leaves GM as the number-two automaker worldwide, with Toyota taking the crown after registering 8.42 million deliveries in 2010.
The General also achieved double-digit gains in five of its top 10 markets, with a 28.8 percent increase in China — GM's latest market by volume — and a whopping 43 percent gain in Uzbekistan, which became GM's tenth-largest market by volume. In the U.S. — GM's second-largest market — the automaker saw vehicle deliveries rise by 6.3 percent in the face of the phase-out of four brands. The General's third-largest market — Brazil — saw deliveries rise by 10.4 percent.
Those curious about how GM counts its sales numbers in China should know that its joint venture (JV) agreement with SGMW (44% GM ownership) and FAW-GM (50% GM ownership) allows GM to report SGMW and FAW-GM JV sales in China as a part of its global market share… so there you have it.
Top 10 Markets - 2010
| 2010 RANK | COUNTY | 2010 DELIVERIES | 2009 DELIVERIES | % CHANGE | 2009 RANK |
| --- | --- | --- | --- | --- | --- |
| 1 | CHINA | 2,351,610 | 1,826,475 | +28.8 | 2 |
| 2 | UNITED STATES | 2,215,227 | 2,084,492 | +6.3 | 1 |
| 3 | BRAZIL | 657,825 | 595,625 | +10.4 | 3 |
| 4 | UNITED KINGDOM | 290,250 | 287,278 | +1.0 | 5 |
| 5 | GERMANY | 269,061 | 381,687 | -29.5 | 4 |
| 6 | CANADA | 247,104 | 254,257 | -2.8 | 6 |
| 7 | ITALY | 169,955 | 188,689 | -9.9 | 7 |
| 8 | RUSSIA | 159,199 | 141,695 | +12.4 | 8 |
| 9 | MEXICO | 155,590 | 138,482 | +12.4 | 9 |
| 10 | UZBEKISTAN | 145,151 | 102,746 | +41.3 | 13 |
Top Brands - 2010
| 2010 RANK | BRAND | 2010 DELIVERIES | 2009 DELIVERIES | % CHANGE | 2009 RANK |
| --- | --- | --- | --- | --- | --- |
| 1 | CHEVROLET | 4,271,189 | 3,517,412 | +21.4 | 1 |
| 2 | OPEL/VAUXHALL | 1,206,620 | 1,236,221 | -2.4 | 2 |
| 3 | WULING | 1,149,060 | 1,001,213 | +14.8 | 3 |
| 4 | BUICK | 718,848 | 558,533 | +28.7 | 4 |
| 5 | GMC | 446,547 | 353,258 | +26.4 | 5 |
| 6 | CADILLAC | 180,724 | 128,838 | +40.3 | 7 |
| 7 | HOLDEN | 140,771 | 126,089 | +11.6 | 8 |
| 8 | DAEWOO | 129,829 | 121,345 | +7.0 | 9 |
| 9 | JIEFANG | 88,224 | 34,860 | +153.1 | 12 |
| | | | | | |