Video: Chevy Cruze Pays The Test Track A Visit, Embarasses Civic
2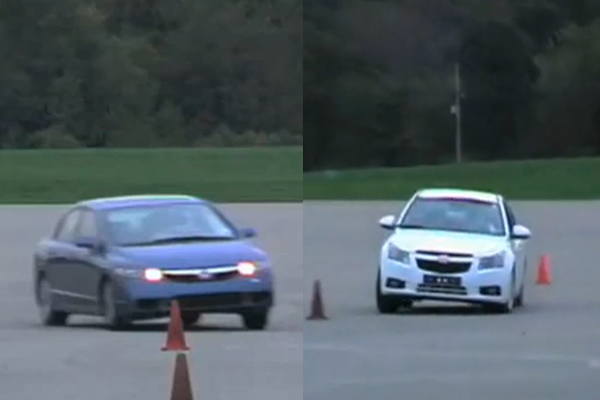 When General Motors was in the process of developing the Chevy Cruze, it had two specific competitors in mind: the mighty Honda Civic and ever-popular Toyota Corolla. Both of the Japanese automakers have produced segment sales leaders and both have made it a habit of churning out bland, boring, and bloated compacts. Chevy wanted to curb the trend and appears to have succeeded with the Cruze.
Not only does the Delta II-based Cruze have best-in-class looks (in this writer's humble opinion), but it also has the sporting driving characteristics to match. Just take a gander at this video of the Civic and Cruze doing a slalom at the track. Pay particular attention as the Civic's body sways wildly from side to side like a sailboat while that of the Cruze remains thoroughly in control. But we already know the Cruze is a segment leader… now let's get that Cruze hatch into production asap!
Be sure to check out the GM Authority review of the new Chevy Cruze right
here
.