GM And The UAW Have A Family Squabble Over The Cruze
5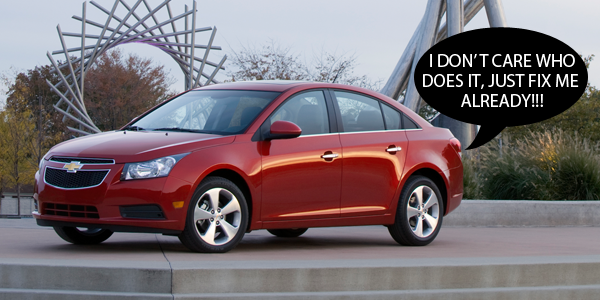 The UAW and General Motors are making amends due to a conflict at GM's Lordstown plant in Ohio. The conflict stems from GM sending a batch of freshly-manufactured Chevrolet Cruzes to a third party vendor instead of the UAW for various underbody repairs. As you can imagine, the union wasn't all too happy about The General sending out vehicles it made somewhere else for this work, causeding the plant's UAW Local to send a letter to all members bashing criticizing GM management. Here are several excerpts from the letter:
"The only time management wants to work jointly is when it benefits them; they have been sneaky, evasive and dishonest on many issues."
Ouch! The letter goes on to say:
"It's time to treat management with the same respect that they treat us. So as of today that's none. Management is not your friend."
President of UAW Local 1112 Jim Graham said in a phone interview with Automotive News that the harshness of the letter was due the stresses that management and union workers are dealing with to produce the Chevrolet Cruze.
"It's a family squabble."
Graham went onto say that "Tempers flared temporarily, but the issue was resolved the next day."
GM Spokesman Chris Lee said that the UAW and General Motors are jointly working on a resolution that's expected shortly.
Are you in the know in this situation? If you are, please leave a comment below or send us a private message using the contact form here.
Update: the flyer created by Graham said the repairs in question were minor fixes to a "switch" and "canister."
Source: Automotive News