Chevy Camaro Transforms Into A Working Computer
0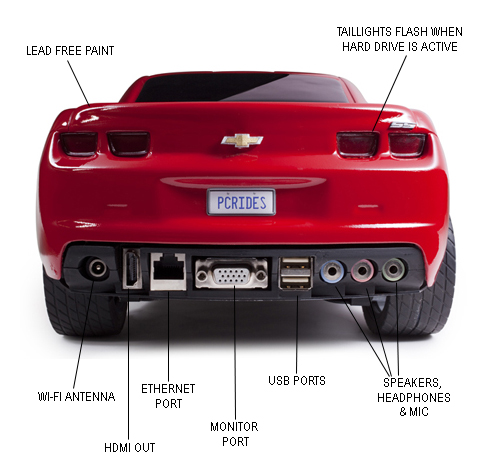 This one goes out to all those who happen to be fans of the new Chevy Camaro and who happen to have a knack for collectibles: Chevy Accessories is now officially offering a modern functioning computer that's a replica of the fifth-generation bow tie pony car.
The 20-inch long Camaro PC has a hood ornament that serves as a power switch, a tray-less slot-loading DVD drive (like those found on most Apple Macs and Sony Vaio notebooks) located in the front bumper, as well as your standard array of connection ports in the rear in place of the rear diffuser. The legendary Chevy bow tie serves as the power switch and the lights – both in the front and the back – indicate that the machine is up and running.
On the technical side, you get a choice of 4-8 GB of RAM, a 250-500 GB hard drive, NVIDIA Cude graphics, and an array of connectivity options, including Wi-FI, HDMI out, Gigabit Ethernet, VGA out, 4 USB ports (2 in front, 2 in back), as well as speaker, headphone, and mic ports. Windows 7 Home Premium is the only operating system available and the entire rig can be painted in lead-free aqua blue, black, cyber gray, inferno orange, rally yellow, silver ice, summit white, victory red colors to match those of the road-going Camaro.
The unit has a starting price of $1239.99 but make sure you have enough greenbacks left over for accessories, since the entire setup is BYOKMM (Bring Your Own Keyboard Mouse and Monitor).
Interestingly, the rally yellow color (my favorite) is only available with 4GB of RAM and the smaller 250 GB hard disk.
Here are the specs of the Camaro PC:
Key Features: Replica Shell Exterior with Intel® Inside
Premium DirectX 10 graphics with advanced digital display connectivity
ITX Motherboard
Your choice of 8GB or 4GB 800Mhz Ram
Your choice of 500GB or 250GB 7200RPM Hard drive
8X DVD-RW Optical Drive
Mini PCI Wireless Ethernet Card
Full 1080p HD video with true-fidelity 6.1 audio
NVIDIA® CUDA™ technology to accelerate the most demanding applications
Microsoft® Windows 7™ Home Premium
"Out of Box" design offers a new level of PC excitement with innovative technology
Officially licensed by GM
One year warranty: click here for Warranty Policy
2010 Camaro Replica Details:
Lights: Ultra bright LEDs illuminate the headlights when the power is on and the taillights flash when the hard disk is active
Power: The power button is a uniquely designed hood ornament that further enhances the user experience
Optical Drive: A fully operational DVD-RW drive has been integrated into the front bumper with a slot loading design that retracts and ejects your disk with a simple push of a button
Lower Port Panel: Without detracting from the inherent appeal of the automobile, the attractive panel includes ports for a fully functional PC – 2x USB, HDMI, DVI, SVGA, AUDIO 7.1, MICROPHONE and 10/100/1000 Ethernet port
Lead Free Paint: With family safety in mind we've used only parts and materials made of 100% lead free paint that conforms to all worldwide government regulations and certification requirements of the USA
Chevrolet Camaro PC