Spied: Vauxhall Astra Three-Door Hatch/Coupe. Buick Version Imminent?
0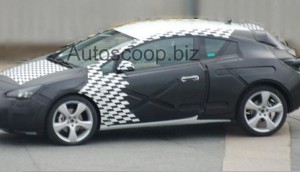 Eagle-eyed spy photographers have caught a prototype of the new Opel Astra three-door hatch wearing the camouflage that's become the de-facto standard of unreleased models. The overall design of the diminutive hatch follows the trend of the last-gen Astra three door, with a swooping front windshield and curved roof differentiating the three- from the five-door.
The entire Astra line is underpinned by GM's global Delta II platform shared with the Chevy Cruze and the three-door coupe will be no exception. The smallest Delta II car, however, will take advantage of a wider track to help with grip and stability. Engine choices for the three-door will most likely be carried over from its five-door brother, including a range of diesel and gas powerplants. Being the enthusiasts that we are at GM Authority, we're looking forward to the GSi and VXR variants of the Astra 3 the most. The GSi will most likely be powered by GM's 1.6-liter turbo Ecotec four producing 210 horsepower, competing with the Volkswagen GTI. The VXR, on the other hand, will use the 2.0-liter Ecotec turbo that's game for 240 horses.
The Astra three door will make an official appearance at the 2010 Paris Motor Show in October with an on-sale date sometime in 2011. Since the Astra sedan is coming to the United States as a Buick (most likely wearing the Verano nameplate), will Americans see the three door version as well? We don't know for sure, and GM is being extremely quiet on the topic. Stay tuned as we learn more and hit up the source for high-res spy pics of the Astra coupe.
[Source:
Auto Express
]