GM To Invest $8 Million, Double Size Of Battery Lab In Warren, Michigan
0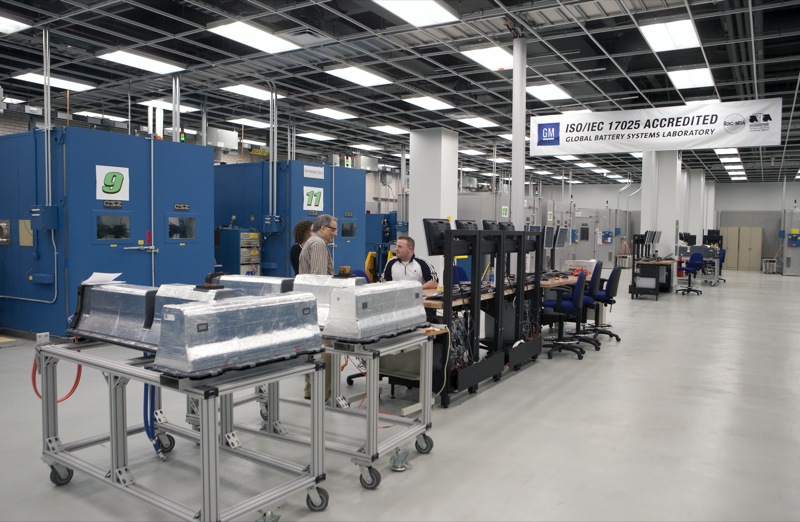 General Motors has announced that it will double the size of its Global Battery Systems lab in Warren, Michigan. The lab is currently the largest and most technologically-advanced battery facility in the United States and GM is pushing to further expedite development of electrically-driven vehicles with this expansion.
The lab began operations in January 2009 and is located on the GM Technical Center campus in Warren. It currently consists of the following departments:
Packing testing and development (14,400 sq. ft.)
Cell and module development (17,400 sq. ft.)
Technical support (2,000 sq. ft.)
GM's plan to expand the facility, known as Phase Two, will cost $8 million and add 30,000 sq. ft. to the existing space, bringing the total size of the facility to 63,000 sq. ft. The goal of the investment is to improve on-site testing of all current and new battery cell, module, and pack technologies.
The lab is currently used by GM's growing team of more than 1,000 engineers working on advanced batteries and electrically-driven vehicles. The expansion will allow GM to add the following capabilities:
Safety and Abuse Tolerance. Powertrain test cells previously used for engine altitude testing will be retrofitted for crush, penetration, water immersion, overcharge, discharge and short circuit tests
Buildup and Teardown. Reuse storage areas to prepare batteries before tests and provide secured rooms for supplier evaluation
Manufacturing Engineering. Reuse space previously occupied by engine dynamometers to improve manufacturing processes, such as laser welding and cell stacking
Charger Development and Integration
Thermal Development. Radiant heat, thermal stability and thermal shock testing
Battery Storage
The expanded facilities are in the process of being integrated with GM's global network of battery labs, consisting of Mainz Kastel, Germany and Shanghai, China. According to GM, doing so will "facilitate seamless data exchange and work sharing." GM also has facilities dedicated to vehicle electrification in Honeoye Falls, New York and the GM Technical Center's Research Chemical Engineering facility.
The Global Battery Systems Lab is equipped with 176 test channels and 49 thermal chambers that duplicate extreme real-world driving patterns, extreme hot and cold temperatures, and calendar-year life. The lab also includes a thermal shaker table used to test the structural integrity of the battery. The facility currently utilizes an integrated test automation system and improved Design of Experiments methodology – an information-gathering exercise that – according to GM – allows it to perform more thorough battery tests more quickly.
The lab consists of many environmentally conscious features such as a center hallway with high-efficiency LED lighting and a floor made from recycled tires. And those wondering about the electricity used up by the facility will be delighted to find that about 90 percent of the electricity used for battery testing can be returned to the local energy grid for use by homeowners and businesses.
The addition to the existing lab will be located adjacent to the existing lab inside the Alternative Energy Center facility. GM will renovate areas previously used for engine testing for battery development. Construction will begin this month and the expansion is scheduled for completion in the summer.