Late Breaking News: GM Delays Making Decision About Saab As Another Bidder Steps Up To The Plate
0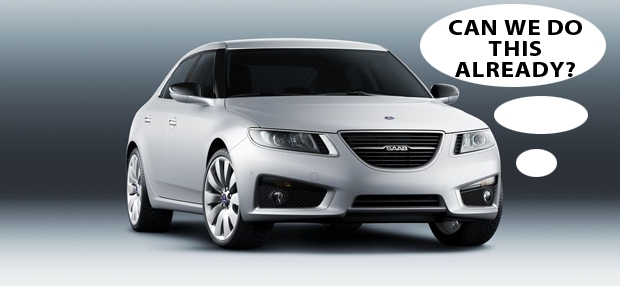 Over the past few weeks, the fate of the Saab brand has been nothing but shaky. After announcing plans to shut-down the brand, accepting a few last-minute proposals, and prolonging the deadline to make a decision about the automaker (and then denying it), today is the day that GM was supposed to announce its decision.
And it has: GM's decision regarding the Swedish automaker is to not make a decision quite yet.
In fact, The General has postponed a meeting scheduled for today where it was finally supposed to decide what to do with Saab until tomorrow (Janurary 8, 2010). The reason for the delay? It appears that a new bidder has come into the fray. Specifically, Genii Capital – a private equity group that just last month purchased Renault's Formula One team.
It's reported that Genii plans to make a cash offer and will use Koenigsegg's business plan to get Saab to profitability by 2012, all while selling a measly 105,000 units per year.
GM Chairman and interim chief executive Ed Whitacre told reporters yesterday that he is optimistic about a sale but it seems that nobody has yet offered the right amount of funds, "It's real easy – show up with the money and you can have it."
Exactly what that amount is would be anyone's guess at this point, but this Saab-loving blogger thinks it's very inappropriate for GM to seek a specific price for Saab when it wanted to shut it down last year, a move that would put thousands of people out of work – not to mention the elimination of a highly-regarded world-wide brand. Having said that, it's possible that GM is simply playing hardball with Saab bidder – using scare tactics as vehicles to increase the monetary amount of the bid.
Super car maker Spyker Cars is still in the bidding game, but there are rumors of another Swedish organization making a super-last minute play for the brand. Stay tuned…
[Source:
Autoblog
via
Bloomberg
, Reuters via
The New York Times
,
Saabs United
]