Tiger Woods' Escalade Actually Owned By GM, Will Be Sold… Eventually (With Pics)
0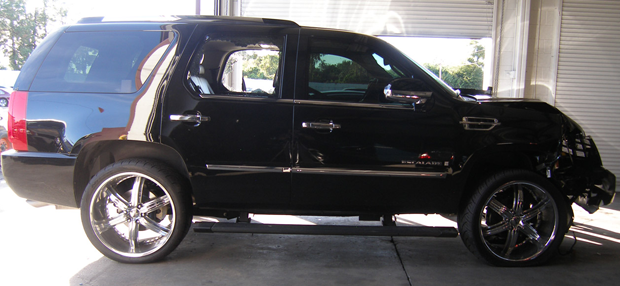 Nope, we're not turning into the tabloids – just reporting about all things GM. As can be expected, this 2009 Cadillac Escalade – the one Tiger Woods drove into a fire hydrant and then a tree in the wee hours of November 27, is heading to the shop for repairs. Interestingly enough, the Escalade isn't owned by Woods, but is part of GM's promotional fleet. Apparently, after the golfer's endorsement contract with Buick ended last year, Tiger made a deal with The General to keep a few cars for personal use, including a Buick Enclave and this here Escalade – the same Caddy that received a wrecked front end and a couple of missing rear windows.
Since the Escalade is part of GM's promo fleet, the automaker will get to decide its fate after repairs are finished: will it go back into the loaner fleet or be replaced by a new vehicle? If replaced, the newly-repaired Escalade will be pulled from rotation and auctioned off, where it would go to the highest bidder.
We can only imagine how high the bids will climb for the Caddy if GM put it up in its current mangled state. Although the likelihood of that happening is slim, leave it to today's entrepreneurial minds to trace this vehicle's VIN all the way to its final auction (in fixed form, of course), and then resell it as "Tiger's Escalade."
It's also worth noting that Tiger picked the Escalade over the Enclave as his vehicle of choice. Perhaps he gave the Buick to his wife?
And now for some GM Authority trivia: what does Escalade actually mean? Here's how the Oxford American Dictionary defines it:
the scaling of fortified walls using ladders, as a form of military attack.
And that's all we're going to say about this… for the time being.
[Source:
Drive On
, Photos: Florida Highway Patrol]
GALLERY: Tiger Woods' GM-Owned Cadillac Escalade
Tiger Woods' GM-Owned Cadillac Escalade
Besides bringing you the latest GM News, GM Authority also has a great forum where you can post topics, ask and answer questions as well as discuss all things GM. Visit the
GM Authority forum
today!